NEW BRAKE RELEASER® DE-ICES DANGEROUS,
FROZEN SEMI TRAILER BRAKES IN MINUTES
Innovative Tool Pays For Itself In One Saved Service Call
CHICAGO, IL  (December 4, 2019) – Milton Industries' new and improved Brake Releaser® propels de-icing fluid into HD truck trailer brake lines, releasing frozen brakes in minutes. The tool can be used during hook-ups, at truck stops, or roadside to reduce downtime and save the expense of an emergency service call.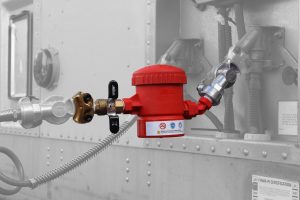 With the Brake Releaser, a driver can deliver air line de-icing fluid to the trailer in minutes — quicker, easier and without the danger, mess and downtime of other outdated methods. The tool connects via standard glad hand couplers and works on dry vans, flatbeds, dump trucks, refrigerated trailers and more. (Demo at seeit.us/br8)
Moisture in trailer brake lines can freeze at winter temperatures, locking up brakes. Even drivers who diligently drain their air tanks may find themselves hauling trailers last carried by a driver who didn't.
 "I was coming out of Indianapolis in whiteout conditions. My trailer froze as I was driving and I jackknifed, almost killing a state trooper," said Bob Allen career truck driver and inventor of the Brake Releaser. "That experience inspired me to create the Brake Releaser."
"Our product team incorporated market input and Milton's extensive experience with air systems to refine Bob's invention and create this turbo-boosting de-icer delivery system," said Milton Industries President & CEO Greg Carlson. "The new Brake Releaser is designed and engineered to save time, money and hopefully lives."
In less than five minutes, a user can de-ice trailer brakes by: 1.) attaching the Brake Releaser to the red emergency line, 2.) filling the reservoir with de-icing fluid, 3.) activating the emergency line air flow button in the cab and 4.) removing the Brake Releaser and re-attaching the red emergency line.
The Brake Releaser is available through a wide network of tool and equipment distributors and online dealers.
For more information on the Milton Brake Releaser, go to MiltonIndustries.com or call Milton Industries at 855.GO4-MILT (855.464.6458).
About Milton Industries
Based in Chicago, Illinois, Milton Industries was founded in 1943 as a family business focused on compressed air accessories. Today, Milton celebrates over 75 years of excellence. It manufactures more than 1500 pneumatic coupler, plug and accessory SKU's and continues to be privately held. Most Milton products are proudly made in the USA.
Milton Industries invented many industry-standard products, including:  M-Style® KWIK® Change Couplers and Plugs, Window Inflator Gages, Safety Blow Guns, and the original compressed air hose-based Driveway Signal chimes and bell.
# # #
For interviews, images or more information, contact Phil Sasso – psasso@prnewsbureau.com or 847/250-7445