Keystone Inks Master Distributor Deal With Hot Wheels Car Care
Distributor Picks Up Full Line Of Hot Wheels Americana Series Appearance/Detailing Products
Las Vegas, NV (October 30, 2018) – Keystone Automotive Operations (KAO) announced at SEMA today that it has entered into a master distribution agreement with Hot Wheels Americana Series Car Care. KAO will stock the full line of five professional-grade Hot Wheels appearance and detailing products.
The current line of Hot Wheels Americana Series Car Care Products are:
Wash & Wax – Biodegradable, pH balanced, soap quickly dissolves dirt and road grime while the soft, high-lubricity Brazilian carnauba wax shines and protects in one easy application.
Epic Shine™ – Synthetic polymer-based Nano-Hydrophobic spray detailer provides an unparalleled quick and easy hand shine. It creates an intense depth and deep gloss on any clear coated or chrome surface.
All Wheel Cleaner – Foam-activated spray dissolves brake dust, grease, dirt and road grime. Its non-acidic formulation is safe for stainless, chrome, aluminum, painted and coated wheels and rims.
Pro Tire Cleaner – Bleach-free formula safely "Breaks Down The Brown" returning tires to a like-new rubber surface. It rids tires of old dressing and road grime while making black walls black and white letters white.
Pro Tire Finish – Silicone based tire detail spray creates a crisp, dark, long-lasting showroom finish. The dual action formula "Dials In Your Shine," either Satin Sheen or Ultra Shine, based on layers applied.
About Keystone Automotive
Keystone Automotive Operations, Inc., (KOA) based in Exeter, Pennsylvania is the leading distributor and marketer of aftermarket automotive equipment and accessories in North America. The 45+ year-old, has grown from a single auto parts store to the largest warehouse distributor in its segment. Keystone operates seven distribution centers in North America with a combined available warehouse footprint of over 2.5 million square feet. 
About Mattel
Mattel is a leading global children's entertainment company that specializes in design and production of quality toys and consumer products. We create innovative products and experiences that inspire, entertain and develop children through play. We engage consumers through our portfolio of iconic franchises, including Barbie®, Hot Wheels®, American Girl®, Fisher-Price®, Thomas & Friends® and MEGA®, as well as other popular brands that we own or license in partnership with global entertainment companies. Our offerings include film and television content, gaming, music and live events. We operate in 40 locations and sell products in more than 150 countries in collaboration with the world's leading retail and technology companies. Since its founding in 1945, Mattel is proud to be a trusted partner in exploring the wonder of childhood and empowering kids to reach their full potential. Visit us online at www.mattel.com.
About Americana Pro
Based in Camillus, New York,  Americana Pro, licensee of the Hot Wheels Car Care brand, is a privately-held company focused on automotive appearance products. The management team has over 70 years of combined experience in the automotive market. Americana Pro has a strong commitment to "Made in USA" products.
For more information on Hot Wheels Car Care Products go to AmericanaPro.com/hotwheels or call 866 CAR CULT (227-2858).
# # #
Media Contact: PhilSasso, PRNewsBureau.com, phil@prnewsbureau.com, 708.695.7468.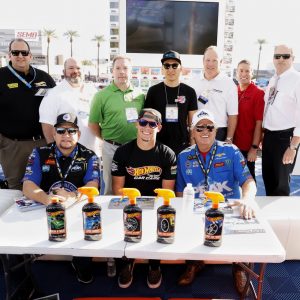 Keystone to be Hot Wheels Car Care Master Distributor
Members of the Keystone Automotive, Mattel and Hot Wheels Americana Pro Series Car Care teams stand behind racers Robert Hight, Alex Laughlin, and John Force (l to r) at Keystone's Hot Wheels Car Care distribution announcement.(Download JPEG)