Hot Wheels Syracuse Nationals
FOR IMMEDIATE RELEASE
Hot Wheels Car Care Products Takes The Lead As
The Presenting Sponsor Of The Syracuse Nationals Car Show July 20 – 22
The "Official Appearance Product" to Showcase $1.8 Million In Custom Cars
Syracuse, NY – Hot Wheels Car Care Products will be the Presenting Sponsor of The PPG Syracuse Nationals 2018 July 20 – 22 at the New York State Fairgrounds in the company's hometown of Syracuse, NY. This year marks the 19th anniversary of the event, the largest car show in the Northeast, drawing about 9,000 show cars and 100,000 attendees over 3 days.
The Hot Wheels Car Care Crew will be stationed near each gate educating, demonstrating, and selling their professional appearance products. For the first time ever, a special Hot Wheels Car Care Bucket will be unveiled at the show. The logo-enhanced bucket features 20 oz. bottles of all five Hot Wheels Car Care products and special microfiber cloths. Valued at $129.95, the bucket will be available for only $79.95 exclusively at the show and online at AmericanaPro.com/hotwheels.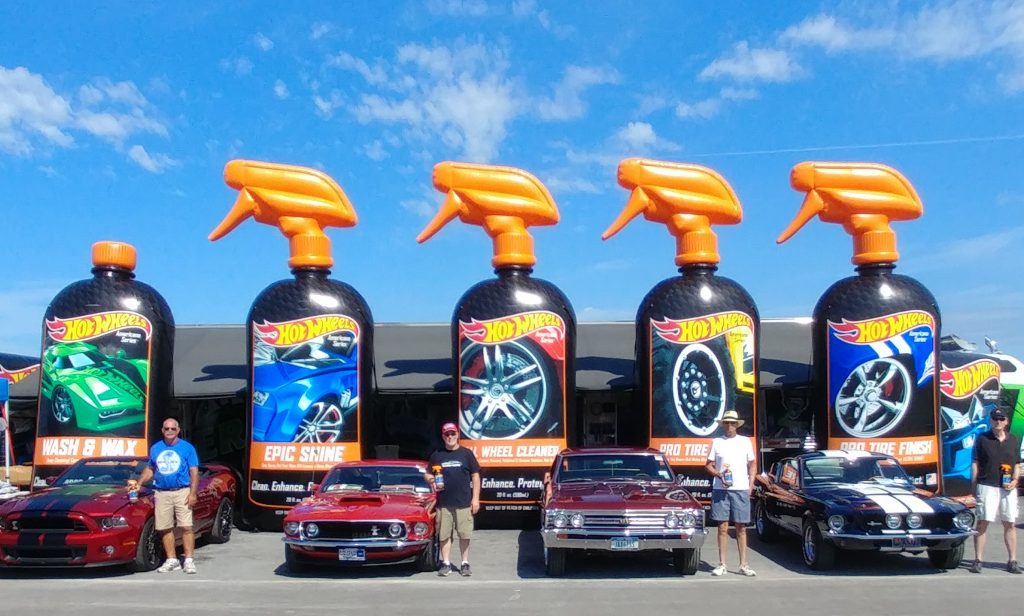 The Hot Wheels Car Care PROVING GROUNDS will feature $1.8 million in Custom Classic Muscle Cars, all exclusively using Hot Wheels Car Care Products for the past year. Hot Wheels Car Care branding will be on all event tickets, signage, commemorative posters and credentials. The 20-foot Hot Wheels Car Care bottle inflatables will be located across the show grounds.
"We're excited to have an amazing brand like Hot Wheels Car Care Products as a partner this year," said Rob O'Connor, President of PPG Syracuse Nationals. "The Hot Wheels brand is synonymous with the car culture. Any car enthusiast will likely tell you their love of the car hobby started with their Hot Wheels. Hot Wheels Car Care products are a perfect fit for the PPG Syracuse Nationals because our car owners demand the best auto appearance products for their rides."
"We're proud to be the Presenting Sponsor and the Official Appearance Products of this landmark event in our hometown," said Dan Pikarsky, Founder and President of Americana Pro Detailing Products. "We've developed easy-to-use, professional-grade blends for our Hot Wheels Car Care line. Our five initial Appearance Products are all approved by the Global Car Culture. In fact, this week alone we're participating in SPOCOM in Anaheim, The Hot Wheels Legends Tour in Chicago, Street Scene 2018 in Liverpool, NY, and NHRA Mile High Nationals in Denver, Colorado, partnering with John Force Racing and Laughlin Motorsports.
Hot Wheels Car Care Products are available at Advance Auto Parts, Carquest, Walmart.com, and JEGS.com and a growing list of retailers.
The full line of Hot Wheels Americana Series Car Care Products are:
Wash & Wax – Biodegradable, pH balanced, soap quickly dissolves dirt and road grime while the soft, high-lubricity Brazilian carnauba wax shines and protects in one easy application.
Epic Shine™ – Synthetic polymer-based Nano-Hydrophobic spray detailer provides an unparalleled quick and easy hand shine. It creates an intense depth and deep gloss on any clear coated or chrome surface.
All Wheel Cleaner – Foam-activated spray dissolves brake dust, grease, dirt and road grime. Its non-acidic formulation is safe for stainless, chrome, aluminum, painted and coated wheels and rims.
Pro Tire Cleaner – Bleach-free formula safely "Breaks Down The Brown" returning tires to a like-new rubber surface. It rids tires of old dressing and road grime while making black walls black and white letters white.
Pro Tire Finish – Silicone based tire detail spray creates a crisp, dark, long-lasting showroom finish. The dual action formula "Dials In Your Shine," either Satin Sheen or Ultra Shine, based on layers applied.
About PPG Syracuse Nationals
The 19th Annual PPG Syracuse Nationals presented by Hot Wheels Car Care Products and Your Local Ford Stores is the largest classic car show in the Northeast. Each year over 8,000 hot rods, 450 vendors, and 90,000 people representing 34 different states and six Canadian provinces come together to celebrate America's love affair with classic cars. To date the event has contributed over $1.2 million dollars to national and local charities. For more information go to www.SyracuseNationals.com.
About Americana Pro
Based in Camillus, New York, (part of the Syracuse area) Americana Pro is a privately-held company focused on automotive appearance products. The management team has over 70 years of combined experience in the automotive market. Americana Pro has a strong commitment to "Made in USA" products.
For more information on Hot Wheels Car Care Products go to AmericanaPro.com/hotwheels or call
866 CAR CULT (227-2858).
# # #
Media Contact: Phil Sasso, PRNewsBureau.com, phil@prnewsbureau.com, 847/250-7445.