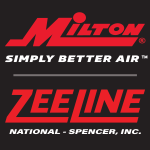 MILTON INDUSTRIES ACQUIRES NATIONAL-SPENCER
AND ZEE LINE PRODUCT LINE
Pneumatics Leader Expands into Lubrication and Fluid Management

CHICAGO  – Chicago-based Milton Industries, a leading pneumatic and hydraulic accessory maker, announced today its acquisition of National-Spencer and the Zee Line brand of lubrication and fluid management products. National-Spencer has facilities in Wichita, KS; Spencer, IA; and Stockton, CA.
This is Milton's third acquisition in the last 18 months. 
"This extends Milton's footprint in industrial, agricultural and aeronautic markets and expands Zee Line's distribution channels," says Greg Carlson, CEO of Milton Industries. "We plan to use our design and engineering expertise to broaden both brands' premium product offerings. Our combined systems, support and network will multiply growth."
"Milton is committed to a seamless transition and to servicing all our current customers with excellence," says Rick England, President & CEO of Zee Line and Hall of Fame Race Car Driver. "Operations will continue as usual. Our distributors will have the same customer service people and discounts, but with faster order fulfillment through increased scale and systems support."
Carlson will serve as CEO of the new Zee Line by Milton brand. England will work with Carlson during the transition. Zee Line was employee-owned prior to the acquisition. Milton's management team is partnered with its financial sponsor, LLCP (Levine Leichtman Capital Partners).
Milton Industries and Zee Line are strong players across their now combined markets, including agricultural, industrial, manufacturing, automotive, military, aeronautical and trucking/fleet industries.
About Milton Industries
Based in Chicago, Illinois, Milton Industries designs, manufactures and markets precision-engineered pneumatic and hydraulic accessories. It is focused on aggressive organic and acquisition growth.
The new Milton INDUSTRIAL brand, launched in 2020, offers a growing line of highly-engineered hydraulic products and accessories.
Milton makes over 1600 SKU's including safety couplers, plugs, gauges, hose reels, blow guns, filter regulator lubricators (FRLs), signaling devices (air and electronic) and accessories.
Most Milton products are Proudly Made in the USA with U.S. and Global Components.
For more about Milton, visit: miltonindustries.com.
About National-Spencer / Zee Line
Based in Wichita, KS, National-Spencer and the Zee Line brand were founded in 1947 as a privately-held business. Today, they are among the leaders in lubrication and fluid management equipment. In addition to the Wichita Headquarters, National-Spencer has a distribution center in Spencer, IA and a flow thru facility in Stockton, CA.
The company manufactures and markets lubrication and fluid management equipment to the agriculture, truck/fleet, industrial and aeronautical industries. Their products include tools and accessories for oil, waste oil, grease, fuel, diesel exhaust fluid (DEF) and chemicals.
For more about National-Spencer and Zee Line, visit: ZeeLine.com
# # #
EDITOR: For more info, images or interviews, contact:  
Media Contact:
Phil Sasso
phil@PRNewsBureau.com
847.250.744